Over a quarter of million chickens thrown in UK bins every day
The UK throws away the equivalent of three uneaten chickens every second, showing the need for UK households to Give a Cluck about food waste. This figure amounts to the equivalent of 86 million birds being thrown away and wasted every year in the UK, and costs us as a nation around £660 million.
A new consumer poll commissioned by Love Food Hate Waste shows that adults aged 18-34 in the UK, have a great opportunity to improve their kitchen skills and reduce the amount of poultry they throw away. When surveyed about attitudes towards poultry waste, it was shown that 'not cooking chicken before its use-by-date' was the main driver for throwing it away (42%) and when quizzed about preparing and freezing poultry compared to other meats, over a quarter (27%) admitted they were not confident.
It showed that only half of this age group (49%) say they would definitely eat chicken on its use-by-date, even though it is safe to do so. The research also found that around three in five (61%) of this group know it is possible to freeze raw poultry, cook it and freeze it again without compromising safety. However, one in five (20%) throw it away because they cooked too much food and couldn't finish it, and did not freeze it.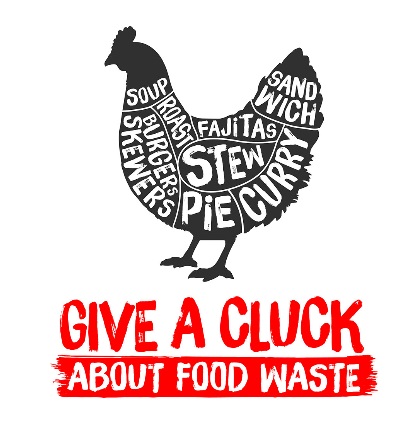 The Give a Cluck campaign is part of a series of campaigns, launched by Love Food Hate Waste, to reduce food waste amongst citizens by raising awareness of the scale of the problem. The campaign provides quick and easy solutions that consumers can take to help combat the issue, such as freezing, storage and recipe tips for chicken and poultry food preparation and cooking.
Helen White, Love Food Hate Waste said: "We're asking people to Give a Cluck by having a plan for their poultry, such as freezing right up to the Use By date, so your bird doesn't end up in the bin. Knowing how best to store, freeze and thaw it will help you to make the most of the poultry you buy. For example, lots of people are surprised that you can freeze raw chicken, cook it and freeze it again. Luckily, there tons of tips and plenty of recipes perfect for poultry on lovefoodhatewaste.com. So if it ruffles your feathers that here in the UK we throw away three uneaten chickens every second, join us and Give a Cluck about poultry waste."
Give a Cluck encourages consumers to help reduce poultry waste with these simple yet important tips:
Preparation for freezing
• Portion your bird for the number of people you usually cook for before you freeze it and place it in an air tight container – such as Tupperware – or wrap the food well in freezer bags, freezer wrap or cling film before freezing so the cold air doesn't dry it out. Remember to label your container to include what's in it and when you froze it or the date by which you need to use it up
Freezing
• You can safely freeze both raw and cooked poultry right up to the use-by date. Cooked poultry can be kept in your freezer for up to a year! If your bird is frozen for longer, marinate it before cooking to improve texture or use herbs and spices to add flavour – it's still safe to eat
Defrosting
• You can defrost frozen poultry in the fridge or the microwave but check to make sure it is thoroughly defrosted and there are no frozen lumps or cold spots in the middle.
• Once defrosted, use within 24 hours and cook until steaming hot.
• Once defrosted, you can turn poultry that had been cooked before freezing into a new meal and freeze again to eat another day.
Notes to editors
For further information about Give a Cluck or for interview requests please contact ellie.box@kindredagency.com or call 0207 010 0800
About Love Food Hate Waste (LFHW)
Love Food Hate Waste (LFHW) is a campaign from the not-for-profit organisation WRAP. The campaign aims to raise awareness of the need to reduce food waste and help citizens take action. It shows that by doing some easy practical everyday things at home we can all waste less food, which will ultimately benefit our purses and the environment too.
About the research
The new research was carried out by Censuswide in January 2018 with a sample of 1,000 UK adults aged 18-34.