When it comes to food, are we Spoiled Rotten?
New campaign encouraging people to buy only what they need to reduce the 7.1 million tonnes of food wasted every year in UK homes
One in four people admit they are poor at judging the right amount of food to buy.
In the UK, 20% of the food we buy ends up in the bin, according to research by Love Food Hate Waste.
In the Liverpool City Region food and drink makes up two-thirds of what goes in our bins. That wasted food costs money – roughly £230 per person annually in the UK – and the amount of C02 it emits is equal to that generated by 1 in 4 of the cars on our roads. But this doesn't have to be the case.
We shop without checking what we've already got at home. We cook too much pasta because it's difficult to know how much to make. Our busy lives mean we often leave salads to wilt in their bags, end up chucking out half a loaf of stale bread, and find forgotten punnets of gone-off fruit because we overestimate how much we'll eat. When it comes to food, we're spoiled rotten.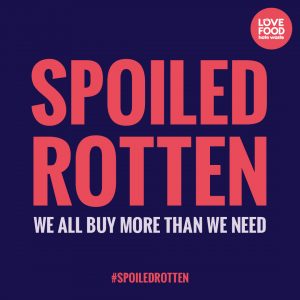 That is why Love Food Hate Waste have launched the new Spoiled Rotten campaign which is calling on people to take individual action and spot their food waste traps, from over-buying milk "just in case" to buying a bag of apples when the recipe only needs one or two. Some 30% of people say they don't check their fridge before they go out to the shops, and nearly half of us forget to check the freezer. Furthermore, only 56% of 18–34-year-olds make a shopping list, and research shows that this group wastes more food than most.
If lists aren't your thing, why not grab your phone and take a picture of the contents of your fridge – a #FridgeShelfie – before you leave the house? It's a quick and easy way of remembering what's in there when you get to the shops. Furthermore, a #shelfie doesn't have to just mean the fridge! Check the cupboards and freezer before you head out, too.
Other top tips to only buy what you need and waste less:
One potato, two potato… ask yourself if you need the whole big bag or if it might be better to pick a few loose ones. Smaller packs are also an option – when it comes to loaves of bread, bigger isn't always better! Research shows that there is a higher rate of food waste per person in single-person households, so if you're buying for one try a smaller pack.
Get freezer friendly. If your fresh fruit is going off before you can eat it all, try buying frozen instead. It lasts longer and can be whizzed up into a delicious smoothie.
Takeout tips. If you've been tempted by a takeaway, check what's in your fridge before you order – you might have something to pop in the freezer to keep it from going off.
Visit our Instagram account (@LFHW_UK) on Tuesday 11th June to get some top tips from Masterchef quarter-finalist Imran Nathoo. He'll be taking over our account for the day to showcase some brilliant ways to buy what you need.
 Jenny Carr from Love Food Hate Waste said: "We enjoy an abundance of food everywhere we go, from farmers' markets and supermarkets to restaurants and cafes. It's never been easier to enjoy food. The problem is, that means it's also never been easier to waste it. UK households produce 70% of the country's overall food waste – 7.1 million tonnes – which is equal to 3.5 meals per person every week!
"It's easy to be tempted– we're only human after all! However, if it's going to end up in the bin, don't buy it. By buying what you need, you can save your food from the bin – helping your pocket and our planet."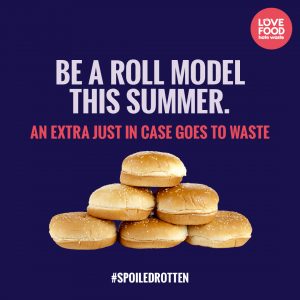 Councillor Tony Concepcion, Chairperson of Merseyside Recycling and Waste Authority, said: "The Liverpool City Region is committed to reducing food waste, and we've been inspired by the activity that Love Food Hate Waste have been doing to raise awareness about the issue. We'd love to see more people taking action – whether they take a shelfie before they shop, just making a shopping list or buying smaller portions to avoid waste. We throw away the equivalent of three-and-a-half meals per person every week in the UK. This is an opportunity for all of us to make a difference."
ENDS
Notes to editors
The campaign website: www.lovefoodhatewaste.com/spoiledrotten.
About the research
About Love Food Hate Waste (LFHW)
Love Food Hate Waste (LFHW) is a campaign from the not-for-profit organisation WRAP. The campaign aims to raise awareness of the need to reduce the amount of food being thrown away and help citizens take action. It shows that by doing some easy practical everyday things at home we can all waste less food, which will ultimately benefit our purses and the environment too.