It's a case of 'so far, sew good' for a community scheme in Northwood, Kirkby, that is using creative arts and crafts to help encourage recycling.
The Northwood CommuniTree 4aRts project is working across the Northwood area in a bid to engage local residents and get them to think about reducing waste and boosting re-use and recycling.
The project is being delivered by Faiths4Change – a registered charity which uses arts, health and wellbeing activities to engage with communities on environmental matters – in partnership with Northwood Together and Knowsley Council.
Faiths4Change has received over £7000 of funding for the project, which comes from the Merseyside Recycling & Waste Authority and Veolia Community Fund 2018/19. The Fund was set up to help support waste prevention, re-use and recycling projects locally.
Northwood in Kirkby has traditionally low levels of recycling. By working with the Community Fund and Knowsley Council, Faiths4Change hope to create clear and consistent behavioural change messages through arts and crafts activities to help the local community turn these statistics around.
The project will conclude with the Northwood 'CommuniTree' Resources exhibition featuring items created by local people at the workshops, a 3D CommuniTree sculpture made of recycled plastic bottles and a canopy made from recycled materials such as textiles.
Liz Atherton, Arts & Wellbeing Project Co-ordinator at Faiths4Change, said: "By bringing together old and young, groups, schools, and organisations from across Northwood we can all create a really positive environmental noise about, with and for the area. There is a wonderful community spirit here and you see it every day at the Community Centre.
"Ultimately the project is about helping to build community spirit, break down barriers and provide educational benefits to enable all to improve the environment for future generations in Northwood."
By the end of the project in March 2019, Faiths4Change expect that they will have:
– Re-used or recycled 6.7 tonnes of materials (including textiles, plastics and bulky family items such as cots and prams)
– Held 6 Swap Shops for textiles, bulky items and toys
– Held 12 clothing repair clinics
– Hosted 64 sewing and craft workshops to create 'textile tree banners'
– Delivered recycling guides directly to 500 households
– Engaged with 8 schools for Bags2School clothing collections
Twelve volunteering opportunities have also been created in partnership with Northwood Together. Faiths4Change are hoping that local volunteers, with the right support, will encourage engagement amongst family, peers and neighbours.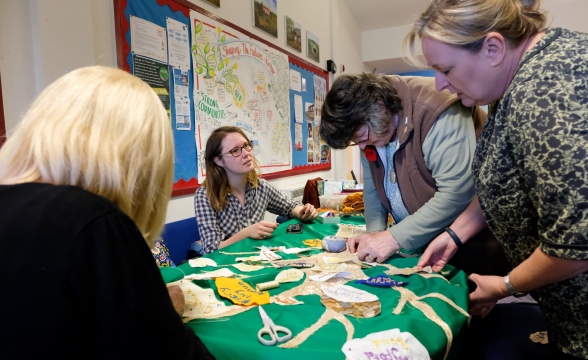 Lou Smith is one local resident for whom the scheme has made a difference. Lou said: "I've been getting involved in the sewing classes, the Pop Up Boutiques and making art work for Northwood Community Centre. There's a really nice, friendly atmosphere and it's been great to dust off the sewing skills I haven't used for a few years. You just hope that it does have an effect and people in the area will start recycling more – I'm sure they will. It's a great community and people just need the right information to help them do what they need to do."
Councillor Tony Concepcion, Chairperson of MRWA, said: "The best Community Fund projects are those that help deliver recycling and waste resource messages to local communities – using groups' expertise and on-the-ground knowledge of particular areas and the people who live there. The work Faiths4Change and the Northwood Together are doing will see a positive effect on recycling levels."
ENDS
Image captions (left to right):
MRWA_F4C 1   Marlene Robinson, Lisa Cover, Liz Atherton and Julia Adlington stitch the Northwood CommuniTree.
MRWA_F4C 2  Julia Adlington, Liz Atherton, Marlene Robinson and Lisa Cover stitch the Northwood CommuniTree.
MRWA is a local government body with nine elected members from the five constituent councils in Merseyside. It organises and manages disposal of all waste collected by the five councils and operates 14 Household Waste Recycling Facilities. www.merseysidewda.gov.uk
The MRWA and Veolia Community Fund 2018/19 has seen 14 community groups from Merseyside and Halton receive a funding boost to help make the region a cleaner and greener place. The financial support will see the groups help reduce household waste, encourage recycling and resource re-use, and prevent carbon emissions.
Members of the media for more information please contact:
John Lally
Marketing and Communications Officer
Merseyside Recycling and Waste Authority
Direct Dial: 0151 255 2568
John.lally@merseysidewda.gov.uk
General enquiries: 0151 255 1444